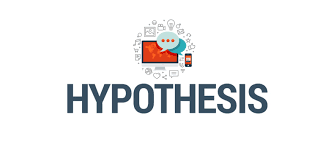 How to Write A Hypothesis?
Let's begin with informing you "what is a Hypothesis?"
A hypothesis is an assumption you make about what your research will find, based on what you know and what you've already learned. You need to be able to test this answer to your research question with more experiments, observations, and other scientific research methods in the future to support or disprove it. It's a tentative answer to your research question.
An example of a hypothesis is:
"People who learn about sex in high school will have fewer unplanned pregnancies than people who don't learn about sex at all in high school."
High school sex education is supposed to help reduce the number of teenage pregnancies, but how effective is it? And you come up with a hypothesis that you want to test and explain in your paper. A hypothesis always claims that there is a connection between several variables.  There are only 2 types of variables, dependent and independent. There can be however, more than one variable for each type depending on the different aspects of your research question.
An independent variable is controlled and/or changed by the researcher
A dependent variable is one that varies in response to an independent variable.
A variable in the example above that we can see is "sex education lessons at school" (you assume it is a cause). And a dependent variable here is "lower rates of unplanned pregnancy," which you think is a good thing.
Please be aware that there is a difference between a theory and a hypothesis. Thesis statements and hypothesis statements may sound the same in some writing guides, but there is still some difference between the two.
How To Write A Hypothesis? 
To formulate a hypothesis, you must first identify a problem that needs to be solved, undertake some background study to learn more about it and make a prediction about the outcome, and then consider both dependent and independent factors. To find a solution to your stated issue, conduct research or engage in creative brainstorming. Write your hypothesis in the form of a "if-then" statement, using the variables you've selected.
According to the scientific method used by scholars, researchers, and science students to test hypothesis, answer questions (and solve problems), hypothesis writing is the third phase.
Observation: Choose an issue to fix or a phenomena to explain and begin your research.
Question: What do you want to know about this topic?
Hypothesis: Create a hypothesis you can test to see whether it addresses your query.
Prediction: Based on your hypothesis, predict the experiment's outcome.
Test: Run your tests to see if your prediction is correct.
Analyze: Examine the results to evaluate if your theory is right. Creating a new one and going through the entire process all over again is an option if it isn't.
Hypothesis are related to thesis statements in academic writing. It's a short paragraph or two that sums up the main point of your essay and how you intend to prove it.
Types Of Hypothesis
It's hard to keep up with all of the many sources and hypothesis categories. You can identify up to 13 hypothesis depending on factors like the number of variables in your experiment and how far along you are in your research process. Alternative and null hypotheses have been referred to as directed and non-directional, respectively, by some researchers.
The following are seven types of hypothesis that you may encounter while conducting research.( we have explained them briefly for you to understand
---
If you are searching for expert writers UK for dissertation help or any other service with the whole process and save you the trouble you can do so by clicking here.